Checkout Now
Expires January 09, 2122 23:59 PST
Buy now and get 52% off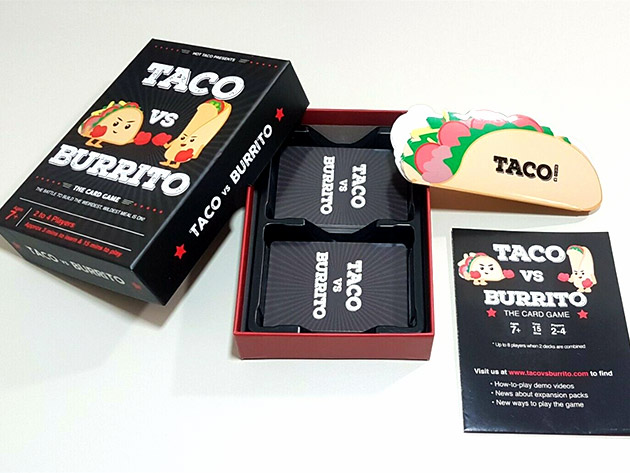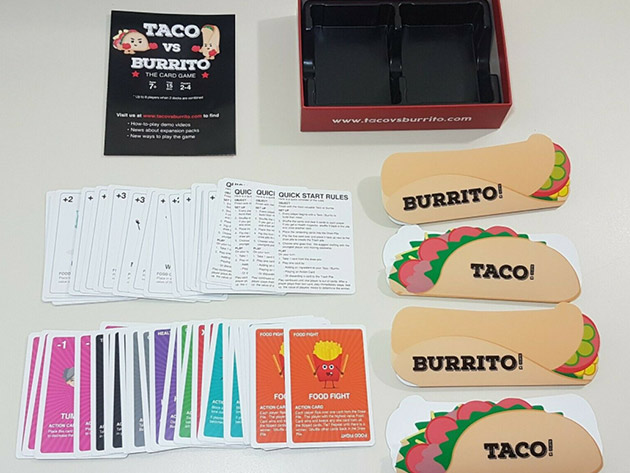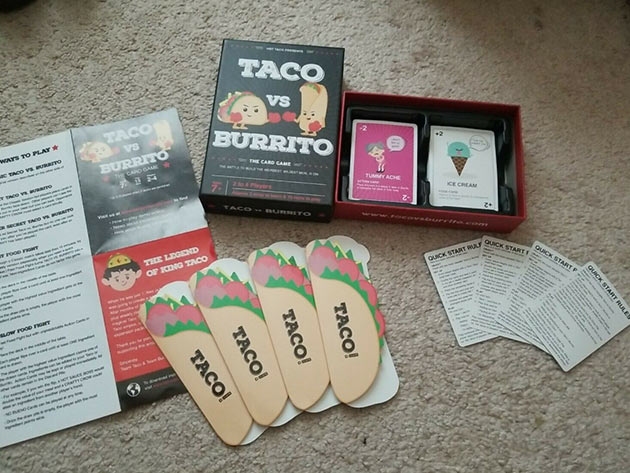 KEY FEATURES
Easy to play, not so easy to win. Taco vs. Burrito is a deliciously unpredictable card game where players compete to create the weirdest, wildest meal. Fun fact: it was created by a 7-year-old boy named Alex! He spent months dreaming up ingredients, planning, and rethinking gameplay, and testing it thoroughly with people of all ages. If you dig card games, weird food, evolving gameplay, and adorable first-time creators, this game is perfect for you!
Successfully funded on Kickstarter!
GAMEPLAY
START.
Choose a Taco or Burrito card holder and deal cards to each player. Put the remaining cards in the middle of the table
ON YOUR TURN
Draw one card, and:

Add an ingredient card to a Taco/Burrito,
Add Tummy Aches to reduce, or
Add a Hot Sauce Boost to double the value of a meal

OR, play an action card

Use the Trash Panda, Crafty Crow, and Food Gight to gain the cards you need to win
BUT BEWARE
Health Inspector. When drawn, all the contents of your meal go into the trash
Order Envy. When played, you can swap your meal and your hand with any other player
No Bueno. Use a No Bueno to block Action Cards (except Health Inspector). And yes, you can block the block with another No Bueno
HOW TO WIN
Game play continues clockwise with players drawing and playing cards until the draw pile is gone. Once any one player is out of cards the game is instantly over and the player with the most points win!
PRODUCT SPECS
Specs
Color: multi
Materials: cardboard
Dimensions: 1.3"H x 6.7"L x 4.6"W
Age range: 7+
Easy to learn
Play time: 15 minutes or less
Cards: 60
Optimal for 2-4 players
Includes
24 Ingredient Cards
32 Action Cards
4 Tortilla Card Holders
4 Quick Start Cards
1 Rule Booklet
---
Checkout Now