Checkout Now
Expires October 24, 2122 20:48 PST
Buy now and get 0% off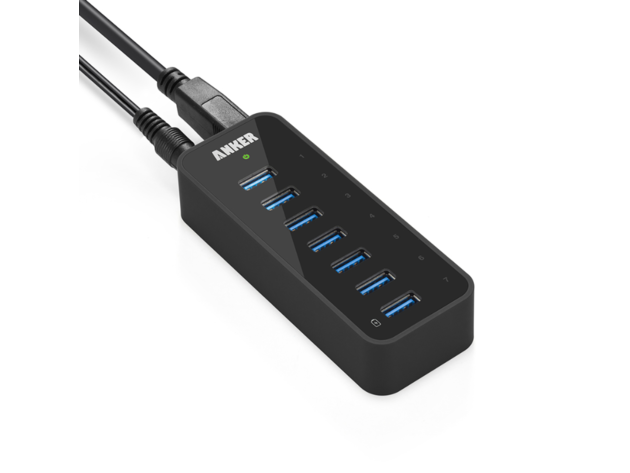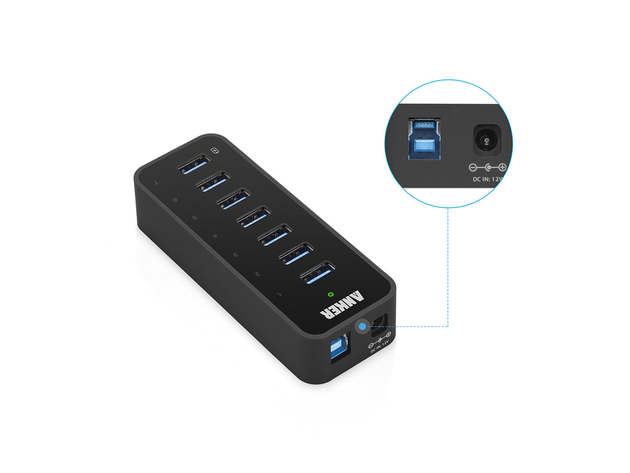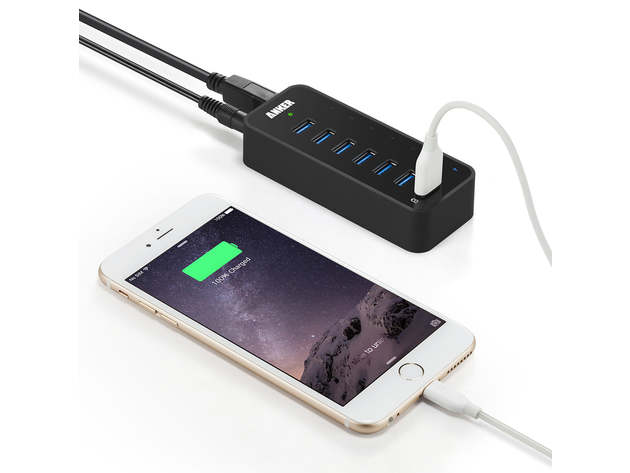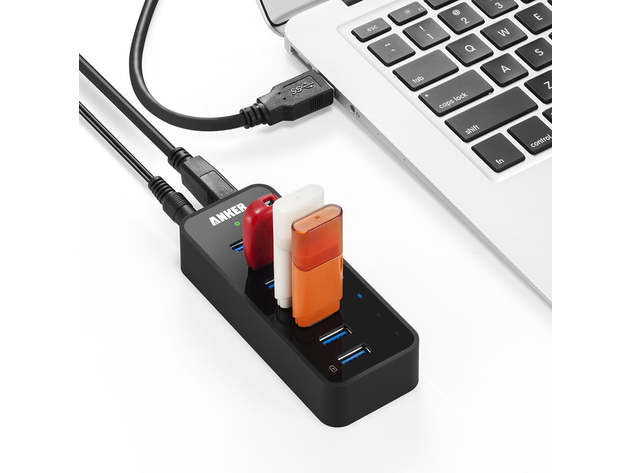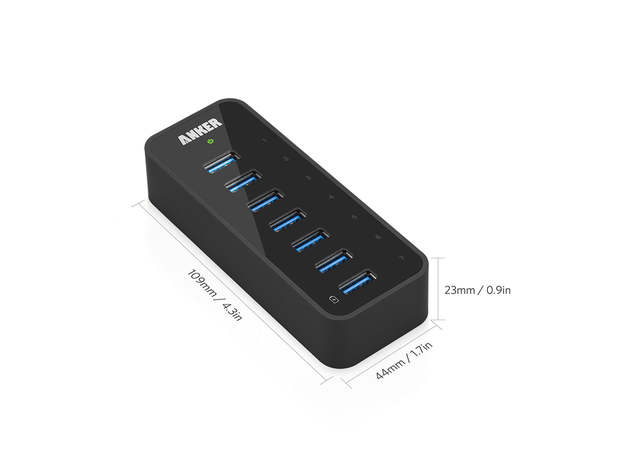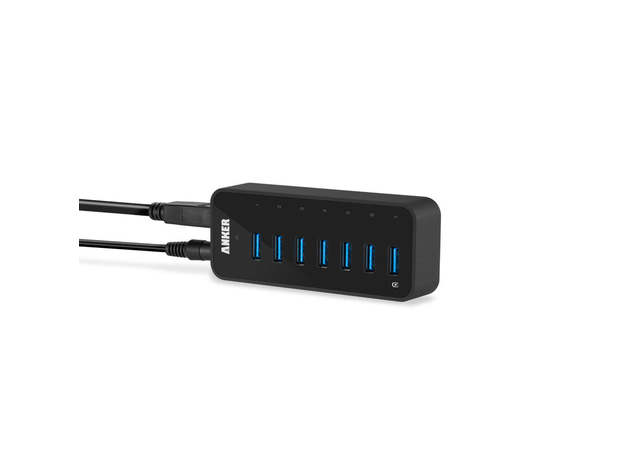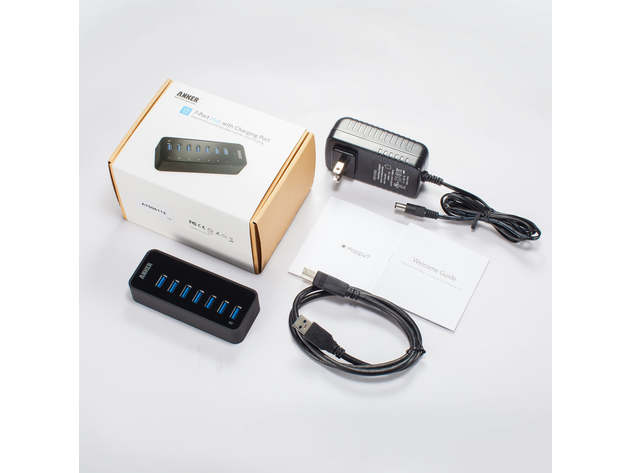 KEY FEATURES
Anker 7-Port USB 3.0 Data Hub with 36W Power Adapter and BC 1.2 Charging Port for iPhone 7/6s Plus, iPad Air 2, Galaxy S Series, Note Series, Mac, PC, USB Flash Drives and More

Easily add 7 USB 3.0 SuperSpeed ports to your PC and enjoy data transfer rates of up to 5Gbps for faster sync times. Backward compatible with USB 2.0 / 1.1.

7th data port also delivers BC 1.2 charging speeds of up to 2.1 amps , while the other 6 ports charge at speeds of up to 0.5A each, with 5.1 amps overall among 7 ports.

High-grade chipset and 36 watt adapter guarantee steady operation. Supports plug-and-play and hot-swapping. No installation of drivers required for Windows XP / Vista / 7 / 8 / 10 or Mac OS X 10.2 and above.

Package contents: Anker USB 3.0 7-Port Hub, 12V / 3A power adapter, 2.6-foot USB 3.0 cable, welcome guide, 18-month hassle-free warranty.
PRODUCT SPECS
Slim, lightweight design and advanced USB technology combine to create a remarkably sleek and convenient USB hub.
Engineered to multiply the functionality of any USB port seven-fold and augment your computer's capabilities.

7-Port Expansion
High-speed data transfers.
Slim and light for optimum portability.

Lucky Number 7
The 7th port is designed for high-speed charging, using advanced technology to deliver power at speeds of up to 2.1A.

High-Speed Data
Every port is equipped with USB 3.0 technology, capable of transferring data at speeds of up to 5Gbps—fast enough to transfer an HD movie in seconds.

Compact
Palm-sized, lightweight and carefully crafted to slide smoothly into any bag or pocket for greater portability and convenience.

Ultra-Compact
Small, lightweight design provides greater portability and conserves space when connecting multiple devices. Upward-facing ports enable effortless, one-handed plugging.

7 High-Speed Data Ports
Instantly add 7 USB 3. 0 SuperSpeed ports to your PC and enjoy data transfer rates of up to 5Gbps. Fast Charging The dual functionality of the 7th port enables data transfer while still providing a full 1. 5A charging speed. (Ensure that the power adapter is connected and plugged in. )

Devices Requirements:
Apple: iPhone 5 / 5s, iPad Air, iPad mini / mini 2
Samsung: Galaxy S2 / S3 / S4, Galaxy Note 1 / 2, Galaxy Mega, Galaxy Mini, Exhilarate, Galaxy Tab 2 10. 1
Google: Nexus 4 / 5 / 7 / 10
Sony: Xperia TX
Nokia: Lumia 920, Lumia 1020

Notes: Compatible with Mac OS X (10. 2 and above). OS X Lion 10. 7. 4 users should upgrade to Mountain Lion 10. 8. 2 or later to avoid unstable connection. Additional Notes: Some USB 3. 0 devices require direction connection to host ports. 2. 4 Ghz wireless devices (keyboards, mice, etc. ) may not work around USB 3. 0 ports. Try using a USB 2. 0 connection. The non-charging ports are intended for data transfer only. They provide insufficient power output for charging. Ensure that the adapter is connected before using this hub.

Number of Ports: 7
Hardware Interface: USB 3.0
Compatible Devices: Smartphones, USB Flash Drives, Tablets, Desktops
Operating System: MacOS 10.12 Sierra, Windows XP, Windows Vista, Windows 8, Mac OS X 10.2 Jaguar, Windows 7, Windows 10
Dimensions: ‎4.29 x 1.73 x 0.91 inches
Weight: 11.4 ounces
---
Checkout Now