Creative Pebble V3 Minimalistic 2.0 USB-C Desktop Speakers with USB Audio, Clear Dialog Enhancement, Bluetooth 5.0, 8W RMS with 16W Peak Power, USB-A Converter Included (Black) - Certified Refurbished Brown Box for $33 October 08, 2021 at 01:00AM
Checkout Now
Expires October 08, 2121 02:21 PST
Buy now and get 15% off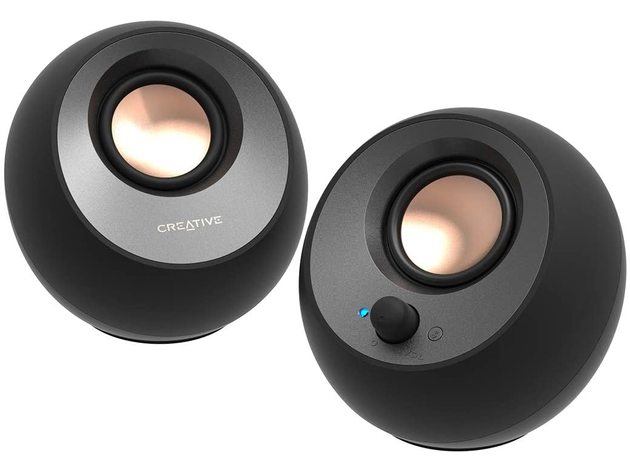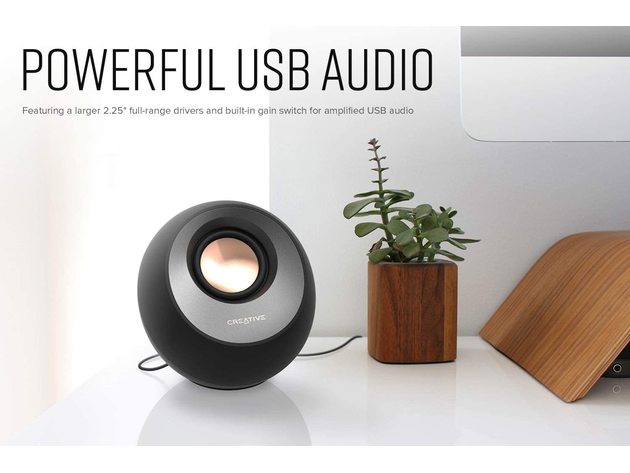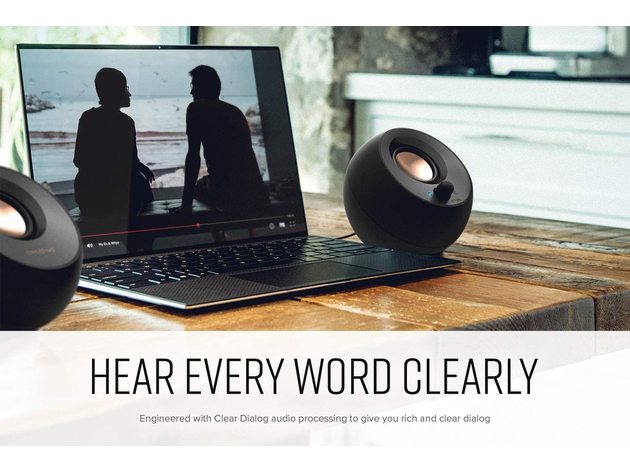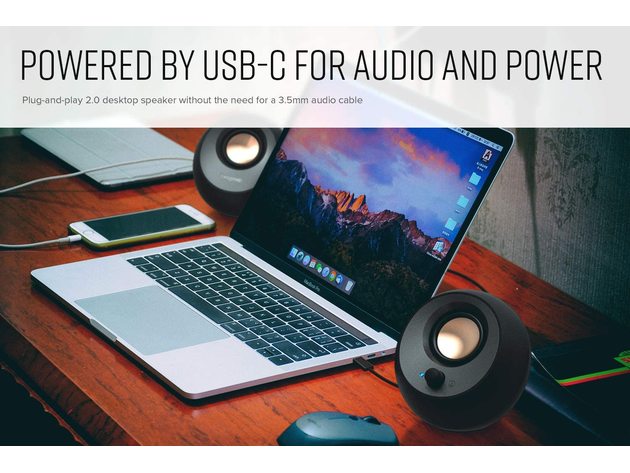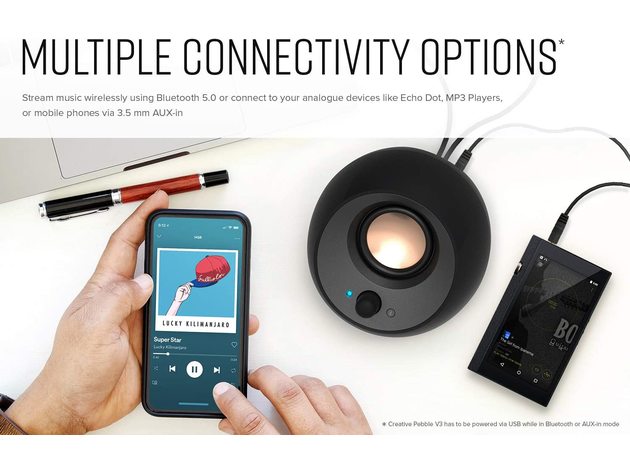 KEY FEATURES
Building on the popular Pebble Series, our newest Creative Pebble V3 is now louder, bolder, and more powerful than ever!
Utilizing just a single USB-C connection for both audio and power, enjoy amplified USB audio from Creative Pebble V3 with doubled audio intensity as well as improved acoustics performance! The 2.0 speakers also offer a wireless connectivity option* so you can enjoy wireless streaming from mobile devices with the latest Bluetooth 5.0. Plus, Creative Pebble V3 features Clear Dialog audio processing technique for clearer spoken dialogs in YouTube, movies and shows. Retaining the same minimalistic design for any desktop, makes it an ideal addition to any home, office, or even gaming setup!
*Creative Pebble V3 has to be powered via USB while in Bluetooth or AUX-in mode.
Powerful USB Audio
Featuring a larger 2.25" full-range drivers, Pebble V3 is capable of delivering louder and richer USB audio. Additionally, you can push your audio further with the built-in gain switch for amplified audio.
Hear Every Word
Pebble V3 is engineered with Clear Dialog audio processing that picks up vocals to give you rich and clear dialogs, so you can hear every word without having to turn up the volume.
Wireless Bluetooth 5.0
With the latest Bluetooth 5.0 connectivity, stream music wirelessly with Pebble V3! It also has a 3.5 mm AUX-in jack that allows for universal compatibility across other analogue audio devices.
PRODUCT SPECS
Features:
POWERFUL AND AMPLIFIED USB AUDIO | With a larger custom-tuned 2.25" full-range drivers, the Creative Pebble V3 is now 50% louder, and delivers richer, more powerful audio, with enhanced bass reproduction. Additionally, you can push your audio further with a built-in gain switch for amplified audio (requires a 10W USB-C or USB-A port) and firing acoustics power of 8W RMS and peak power of up to 16W
HEAR EVERY WORD WITH CLEAR DIALOG AUDIO PROCESSING | Engineered with our Clear Dialog audio processing, the Creative Pebble V3 delivers clear and intelligible spoken dialogs when watching YouTube, movies and TV series without affecting the audio effects happening in the show's background, and without having to turn up the volume unnecessarily
SIMPLE, PLUG-AND-PLAY USB-C 2.0 SPEAKER | Creative Pebble V3 supports fuss-free connectivity and minimal cabling with only a single USB-C cable and without the need for a 3.5 mm audio cable so your desk remains neat and clutter-free from messy wiring. When used with the latest USB-C ports found on newer computers, the Pebble V3 can draw power more efficiently for louder USB audio. For older computers with a USB-A port, we've also included a USB-C to USB-A converter for your convenience
ALSO CONNECTS VIA BLUETOOTH 5.0 OR 3.5 MM AUDIO INPUT | When you're not at your desk, you can also stream music wirelessly via the latest Bluetooth 5.0! Great for lazy moments where you just want to stay on your bed with some grooves to chill. To pair, simply press the Bluetooth button on Creative Pebble V3 and connect with your mobile device! There is also a 3.5 mm AUX-in jack that allows for universal compatibility across other analog audio devices. (AUX-in cable is not included)
MODERN AND MINIMALIST DESIGN WITH 45° ELEVATED DRIVERS | The perfect fit for any home or office, Creative Pebble V3's compactness makes them ideal on any desk space. Creative Pebble V3 also features a longer cable connecting the right to left speaker for more flexibility in speaker placements, and retains the same 45° elevated drivers, so audio is directed straight to your ears, placing you in the perfect audio sweet spot
---
Checkout Now