iChess Vault Premium Course Library: One-Time Lifetime Purchase for $399 September 23, 2021 at 07:00PM
Checkout Now
Expires September 24, 2121 23:59 PST
Buy now and get 83% off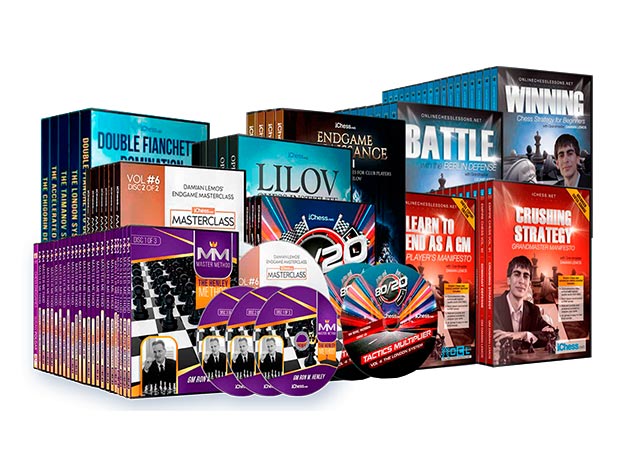 KEY FEATURES
Would you like to own the best and most complete video encyclopedia of chess available worldwide? We're talking about more than 1,500 hours of premium coaching from the world's top Grandmasters and coaches – covering every aspect of chess from openings and tactics to middlegame mastery, endgames, and chess psychology. This super-collection includes all courses ever produced by iChess.net: Intuition Navigates Chaos, Lemos Deep Dive, Empire Chess, Master Method, 80/20 Tactics Multiplier, Polgar's University, Masterclass, Endgame Renaissance, and more.

The iChess Vault represents a unique collection of chess instruction featuring high-quality coaching from top players like GM Simon Williams (aka GingerGM), GM Susan Polgar, GM Judit Polgar, GM Daniel Naroditsky, GM Sam Shankland, IM Nazi Paikidze, GM Damian Lemos, GM Bryan Smith, IM Valeri Lilov, GM Rashad Babaev, IM Eric Rosen, and many others. Beginner, intermediate, and advanced players will find exceptional value in this huge chess DVD collection.
Access 238 lectures & 1,500 hours of content 24/7
Learn chess strategy, tactics, & more
Refine your existing opening repertoire
Dive into attack, positional chess, strategy, tactics, middlegame, & endgames
Understand the most common tactical patterns in the most aggressive openings in chess
Learn how to think in the chess endgame
Make progress in tricky positions & coordinate your pieces like a real master
Courses
The Master Method Collection (580+ hours)
Video Encyclopedia of Chess Openings Mega Bundle (35+ hours)
Intuition Navigates Chaos Collection (63+ hours)
Lemos Masterclass Collection (56+ hours)
80/20 Tactics Multiplier Collection (120+ hours)
Endgame Renaissance Collection (42+ hours)
Lemos Deep Dive Collection (150+ hours)
Lilov Chess Institute (66+ hours)
Empire Chess Series (320+ hours)
Other Series (71+ hours)
PRODUCT SPECS
Important Details
Length of time users can access this course: lifetime
Access options: desktop & mobile
Redemption deadline: redeem your code within 30 days of purchase
Experience level required: all levels
Presenters: FM Alisa Melekhina, GM Anatoly Karpov, GM Axel Delorme, GM Damian Lemos, GM Daniel Naroditsky, GM Eugene Perelshteyn, GM Ivan Sokolov, GM Mihail Marin, GM Paco Vallejo, GM Ron W Henley, GM Sam Shankland, GM Simon Williams, GM Susan Polgar, IM Robert Ris, IM Valeri Lilov, WGM Anna Rudolf, GM Aleksandr Lenderman, GM Arkadij Naiditsch, GM Bryan Smith, GM Csaba Balogh, GM Daniel Gormally, GM Efstratios Grivas, GM Fabien Libiszewski, GM Irina Krush, GM Judit Polgar, GM Liem Le Quang, GM Marian Petrov, GM Nadya Kosintseva, GM Nigel Short, GM Romain Édouard, GM S.P Sethuraman, IM Ekaterina Atalik, IM Irina Bulmaga
Encoding: Standard H.264, .mp4, compatible with all Apple and PC devices
Have questions on how digital purchases work? Learn more here
Requirements
Any device with basic specifications
THE EXPERT
Instructor
iChess.net is a top-rated chess training resource that publishes thousands of free chess videos and articles on our blog. Our mission is to help you learn chess and get better at the game. They develop beginner chess content, scholastic chess DVDs for kids, videos for chess club level players, all the way up to the most advanced chess courses designed for 2300-2500.
IChess also offers free 3-minute video previews from the 1,000+ chess DVDs in their chess shop. You can watch free chess videos by dozens of leading Grandmasters, including original productions by world chess champions Anatoly Karpov and Susan Polgar.
---
Checkout Now