Checkout Now
Expires December 14, 2021 23:59 PST
Buy now and get 88% off
Rosetta Stone: Lifetime Subscription (All Languages)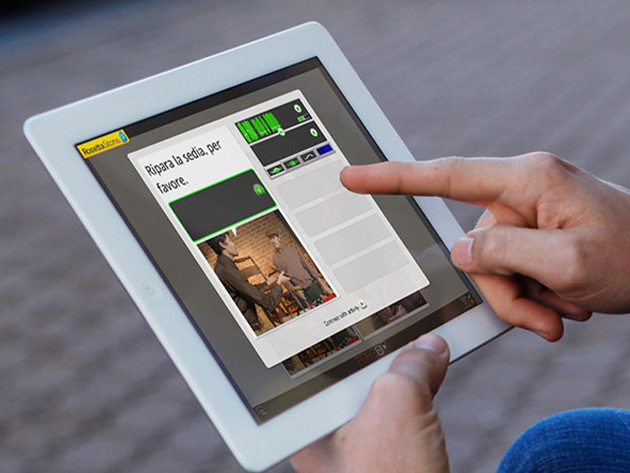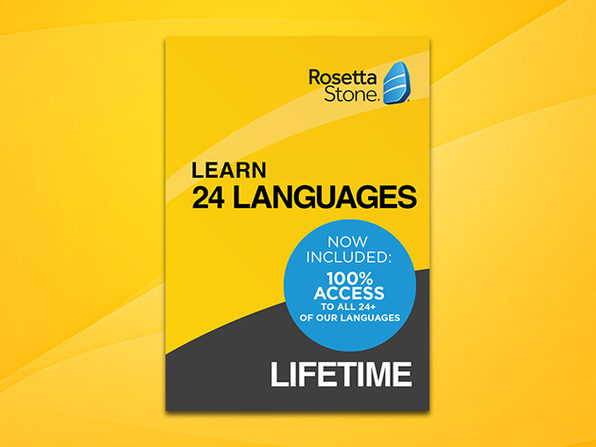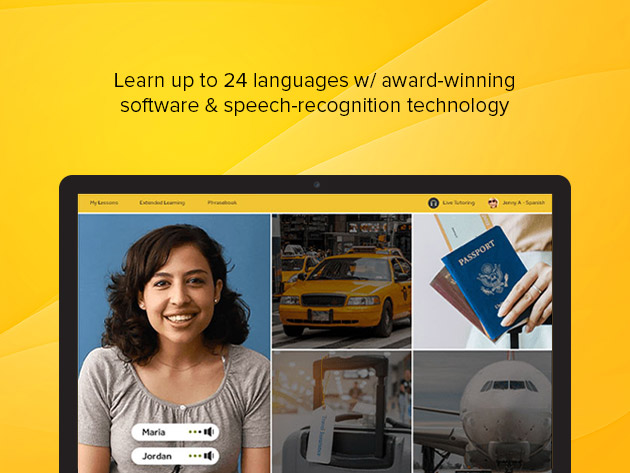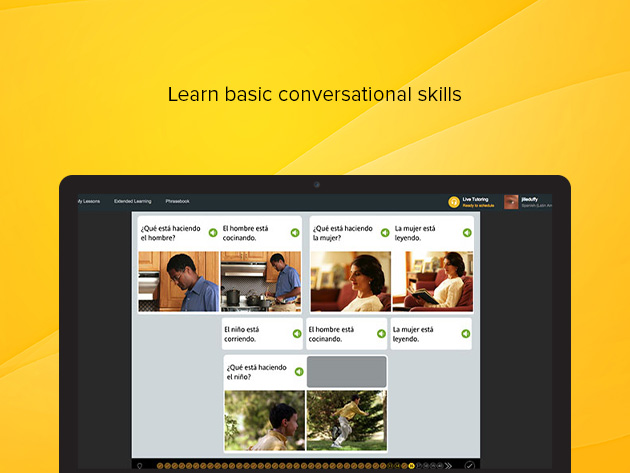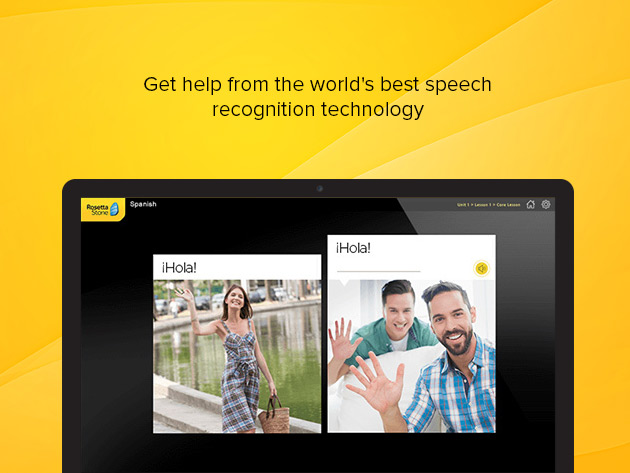 KEY FEATURES
The benefits of learning to speak a second language (or third) are immeasurable! With its intuitive, immersive training method, Rosetta Stone will have you reading, writing, and speaking new languages like a natural in no time. You'll start by matching words with images just like when you learned your native language as a child. Then you'll move onto interactive lessons where speech recognition technology works to evaluate and improve your accent with instant feedback. The reviews don't lie, Rosetta Stone is the best way to master a second, third, or fourth language from home.
Trusted for 27 years by top organizations like NASA, Calvin Klein & TripAdvisor!
Learn up to 24 languages (1 at a time) with award-winning interactive software & proprietary speech-recognition technology that analyzes the words you say 100 times per second
Get help from TruAccent™, the world's best speech recognition technology
Develop your command of the language as you learn to read, write, speak & understand
Learn basic conversational skills like shopping, ordering, taking a taxi, etc.
Move onto intermediate language skills like sharing opinions & discussing pop culture
Use the advanced speech engine to compare your accent to native speakers
Reviews
PC Magazine Editors' Choice Award: Best Language-Learning Software, 5 Years In a Row
Wall Street Journal: "Rosetta Stone... may be the next best thing to living in a country."
PRODUCT SPECS
System Requirements
Operating System (one of the following)
Windows: Windows 7, Windows 8, Windows 10 or higher
Mac (Intel based only): Maverick or higher (OS X 10.9 or higher)
Internet Explorer 11, Safari 10/11, and current and previous two versions of Chrome, Edge, and Firefox
Latest version of Adobe Flash Player
Computer Hardware
On Windows: 2.33GHz or faster x86-compatible processor OR Intel® AtomTM 1.6GHz or faster processor for netbooks
On Mac: Intel CoreTM Duo 1.33GHz or faster processor
1 GB of RAM or higher
1024 x 768 display resolution
High-Speed Internet connection (at least 768Kbps)
Headset with microphone (not included)
To access online services:
Must have standard Broadband Internet connection (slow internet connections will not suffice)
Must be 13 years of age or older
Important Details
Language: Spanish (Latin America), French, Italian, German, English (American), Arabic, Chinese (Mandarin), Dutch, English (British), Filipino, Greek, Hebrew, Hindi, Irish, Japanese, Korean, Persian (Farsi), Polish, Portuguese (Brazil), Russian, Spanish (Spain), Swedish, Turkish, Vietnamese
Redemption: must redeem within 30 days of purchase
Length of access: lifetime
Gives access to all levels of languages
Access options: desktop and mobile
Works on multiple devices (PC, MAC, tablet and mobile).
Note: Customers can only access one language at a time but can switch between them at any time
Have questions on how digital purchases work? Learn more here
Matt's Flights Premium 3-Yr Subscription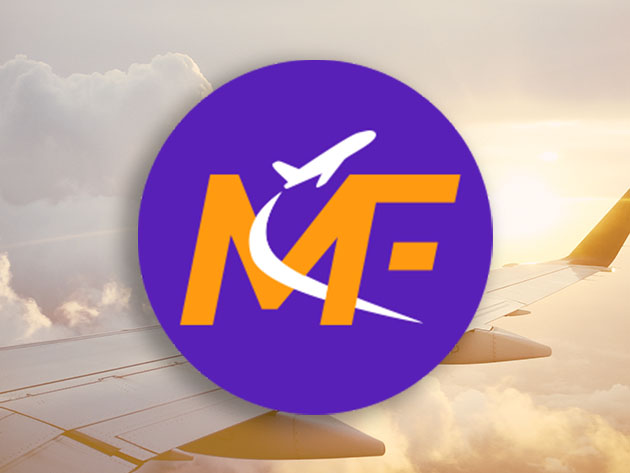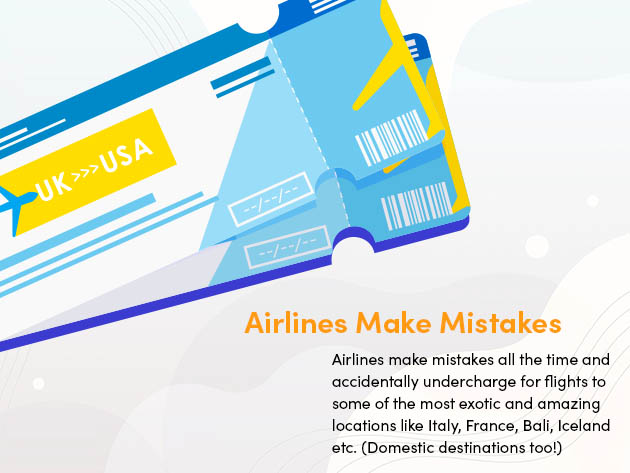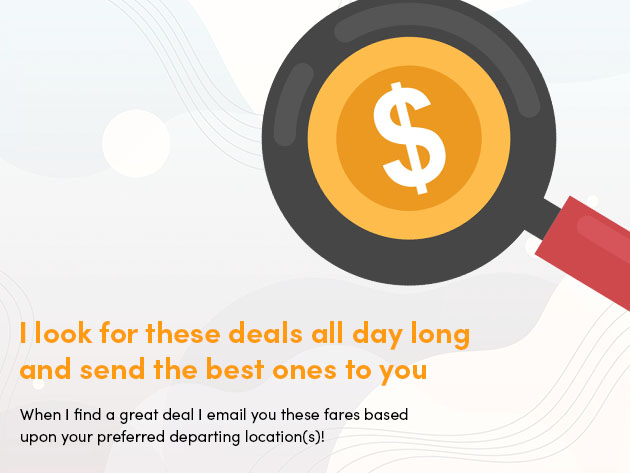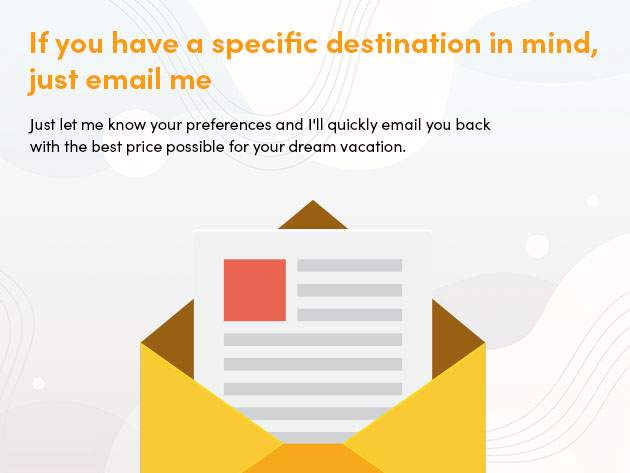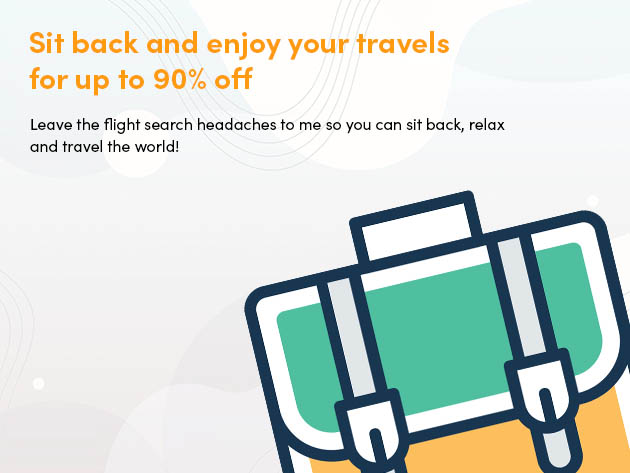 KEY FEATURES
Countless people are consumed by wanderlust but just can't afford to travel as much as they'd like. If you're one of them, here's a little secret: Airlines make mistakes. You can take advantage and go on vacation for a really cheap price with Matt's Flights! Here's how it works: Matt searches for the best flight deals all day long. Once he finds really cheap and awesome flight deals (due to airline mistakes or just super discounted sales), he will quickly email them to you. Choose your favorite deal, travel for a fraction of the cost, and enjoy vacationing for cheaper than ever before!
As featured on The New York Times, Thrillist, The Hustle, and Kind Traveler
Receive cheap flight emails based on your departing airport/location
Get personal 1-on-1 flight & travel planning support from Matt, 24/7
Gain instant access to all of Matt's best deals, up to 5x more than free members
Expect 3+ deals per week & an unlimited amount of custom search requests to guarantee the cheapest airfare personalized for your travel needs
Testimonials
"Matt saved me $1,200 on the flight for my daughter's honeymoon. Easy-to-use. Thank you." – Susie Walters-Richardson
"We needed to fly to Honolulu from Miami. Searching for good priced flights is overwhelming. Matt found a great deal - round trip for two was $630!!" Do not hesitate - join Matt's Flights NOW!" – Sharon Latkovich Valente
"Great flights at my fingertips. He's always available and on top of it. I highly recommend Matt's Flights!" – Sissy West McElmurry
Premium Subscription
Instant access to all of the best deals
Direct 1-on-1 flight and travel planning support via e-mail, 24/7
Quick, direct mistake fare notifications
3+ deals per week
Unlimited amount of custom search requests
Domestic & international deals
Covered cities:

US: ABQ, ATL, AVL, AUS, BDL, BNA, BOI, BOS, BUF, BWI, CHS, CLE, CLT, COS, CVG, DCA, DEN, DFW, DTW, EWR, FLL, IAD, IAH, ICT, IND, JAX, JFK, LAS, LAX, LGA, MCI, MCO, MIA, MKE, MSP, MSY, OAK, OKC, OMA, ORD, PDX, PHL, PHX, PIT, PVD, RDU, RNO, RSW, SAN, SAV, SAT, SEA , SFO, SJC, SLC, SMF, SNA, STL, TPA, TYS
Canada: YEG, YOW, YUL, YVR, YYC, YYZ

If you don't see your airport on here, WE CAN SERVICE ANY AIRPORT FOR CUSTOM SEARCHES. Just email matt@mattsflights.com
PRODUCT SPECS
System Requirements
Important Details
Length of access: 3 years
Credit card information required during redemption to access the product
Redemption deadline: redeem your code within 30 days of purchase
Access options: desktop & mobile
This plan is only available to new users
Updates included
Have questions on how digital purchases work? Learn more here
The Complete 2021 Travel Hacker Bundle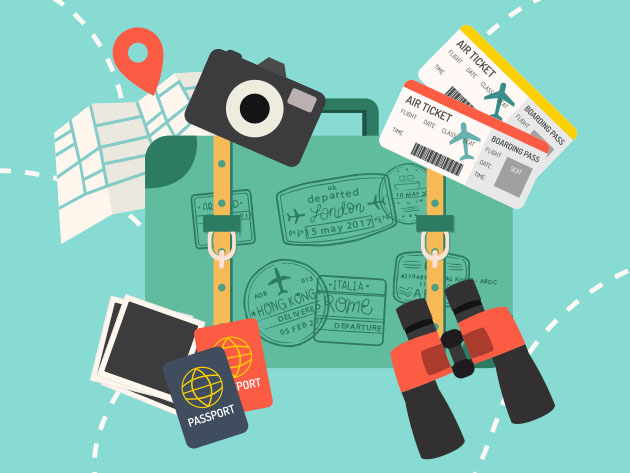 KEY FEATURES
Travel creates eye-opening adventures with spiritual experiences that you can't find doing much else. The early explorers enjoyed every minute of their travel as they observed the world in wonder and awe. The information in this bundle works for single individuals, couples, families, and young adults - anyone who has a passion for traveling the world! Learn the tips and strategies on how you can travel the world on a shoestring budget while enjoying every minute of it!
Courses Included
Learn To Become A Digital Nomad (17 lectures & 2.5 hours)
Travel Hacking: Travel Twice As Far For Half The Money (27 lectures & 2 hours)
The Ultimate Travel Photography Course for Beginners (32 lectures & 3 hours)
Travel Hacking: How To Travel The World For Cheap (11 lectures & 1 hour)
How To Make A Successful Move Abroad: Easy Transition Guide (36 lectures & 2 hours)
Learn A New Language As An Adult (50 lectures & 2.5 hours)
PRODUCT SPECS
Important Details
Length of time users can access this course: lifetime
Access options: desktop & mobile
Redemption deadline: redeem your code within 30 days of purchase
Experience level required: all levels
Have questions on how digital purchases work? Learn more here
Requirements
Any device with basic specifications
THE EXPERT
SkillSuccess | 2,000+ carefully curated online video courses
As featured on CNN, Entrepreneur, Mashable, CNET, TechRadar, and more!
SkillSuccess is the hub to learn any skill on your own time, at your own pace. Take your learning anywhere you go on any device including your computer, TV, tablet, or mobile phone. SkillSuccess provides 1,000+ carefully curated and organized online video courses on different categories: from business to lifestyle. Their support team is at your service with a click of a button. Emails answered quickly and live chat standing by. Learn from the experts, earn your skill certificate and share your feedback.
---
Checkout Now