Oransi Asthma Mold Dust Allergies Finn HEPA Filter UV Lamp Air Purifier Black for $299 October 20, 2020 at 10:00AM
Checkout Now
Expires October 17, 2120 01:39 PST
Buy now and get 21% off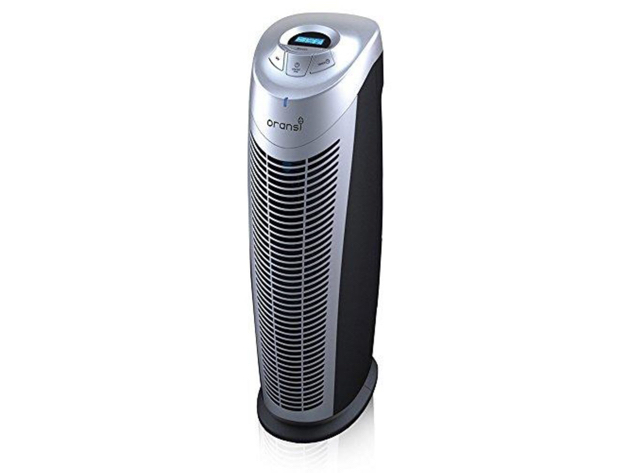 KEY FEATURES
The Oransi Finn Air Purifier can help you breathe and sleep better with lighter, fresher, cleaner. The carbon pre-filter removes larger dust particles and light odors to freshen up your room and the main filter removes finer sized particles. Featuring a stylish design with a small footprint the Finn fits in well in a bedroom or small office. It is small and light weight so it's a breeze to carry room to room. This air cleaner features electronic controls with an intuitive LCD display, a filter replacement/clean indicator and 3 fan speeds. With some air purifiers you can easily spend more on replacement filters than the air purifier itself. That's why the v-hepa filter has an extended life (up to 24 months) and includes 2 extra pre-filters in the box. In the first two years alone you will save an average of $202 when compared to comparable air purifiers. In addition, the Oransi v-hepa Finn air purifier draws only 55 watts making it low cost to operate. With its tower design the Finn air purifier fits nicely in any room and is something you can place in view in a room and not have to hide behind the couch. In addition, there is no wasted space in the purifier so it's more compact and powerful than other tower air purifiers. The attractive neutral color and cool contemporary design that will match any décor.
PRODUCT SPECS
Ideal as a bedroom air purifier for asthma, mold spores, dust remover, pet dander and allergies. Sleep and feel better to be your best.
Have confidence since Oransi filters were rated #1 in the only comprehensive university study of air cleaners.
Say goodbye to nasal stuffiness and wake to a home that smells fresher and cleaner. Sleep peacefully with this quiet air purifier. There are two sets of fan blades to optimally give you clean air quietly.
Simple to use. Just plug it in and breathe easier in your allergy free haven. Easy filter access and the user interface is intuitive. No complicated set-up.
Special Value: Comes with a 1-2 year extended life HEPA filter, plus 2 extra pre-filters to save you money. Better filters last longer.
Stylish design: Fits well in a bedroom or small office and is small and light enough to carry room to room.
What's in the box: Finn air purifier, installed filters, user manual and 2 extra pre-filters.
---
Checkout Now